600Nm3/h Membrane nitrogen generator PSA Nitrogen Gas Booster Compressor
Membrane nitrogen generators offer reliability and ease
The nitrogen membrane generator is a complete turnkey system. It arrives at your location and you put it online. We design and build membrane nitrogen generators to your specifications. We can match our membrane nitrogen generators to your compression equipment for any application.

Technical Parameter (Equiped Air cooled Screw Compressor+ High pressure piston compressor)
No.
Item
Unit
Value
1

Nominal volume flow rate

m3/min

≥17

2

Rated discharge pressure

MPa

1.25

3

Environment Temperature

ºC

-30~+45

4

Cooling method

Closed water cooling

5

Shaft Power

KW

156.7

6

Discharge gas temperature

ºC

≤50

7

Gas adjustment type

Proportional automatic adjustment

8

Noise

dB(A)

85±2

9

Diesel engine(common)

Power

KW

298

Speed

r/min

1800

Brand

Cummins

Type

NTA855-P400

Start mode

Storage Battery, cold start

10

Outlet diameter

mm

65
Main technical parameters


Model:MZD-600/250-90%-C


Nitrogen Flow Rate:600 m3/h


Nitrogen Purity: 90%(85-95% adjustable)




Max Exhaust Nitrogen Pressure:25 MPa




Nitrogen Gas Temperature:≤60 ºC




Driven Mode:Cummins NTA855-P400 Diesel Engine




Operation Mode:24hours continually working




Cooling Mode:Closed water cooling




Compressor control:PLC program automatically control,

On site local control operation.




Adapt to Altitude:≤1000m




Minimum ambient temperature: -30ºC; maximum ambient temperature: +45ºC




Installation mode: Integral prizing on one skid




Dimension: 7000*2490*2400mm




Weight:13.6t




Truck: Total weight 25t, Sanqiao, 6*4, Weichai engine




Overall dimension: 9840*2490*2615mm
Screw Compressor Configuration:
1.The LGF-17/12.5-C screw air compressor is skid mounted, and the main and auxiliary machines are installed on the same skid.
2. Screw air end: used Hangzhou JOY air end, single-stage compression, reliable performance, low specific power.
3. It is elastically and directly connected to the diesel engine, which is stable and reliable, high transmission efficiency, low noise, and low maintenance costs.
4. Diesel engine: Chongqing Cummins NTA855-P400 diesel engine.
5. The compressor is cooled by closed water cooling, air cooling for water, water cooling for compressor.
6.The compressor is equipped with safety valves at all levels.
7. Centralized manual and automatic sewage discharge, visible sewage discharge status.
8. Compressor control system: the control is transmitter+PLC+touch screen. The screw compressor has the functions of high oil temperature, high discharge pressure protection and gas volume regulation.
9.The exhaust pipe interface is connected to the outside of the compressor skid, and equipped with HG/T20592 paired flanges for easy field installation. The discharge port diameter is DN65 and the pressure is PG1.6MPa.

Hollow Fiber Membrane Nitrogen Production System
Membrane separation nitrogen generation unit includes air purification treatment (gas water separator, multi-stage oil removal filter, activated carbon filter, heater), pressure and temperature control, membrane separation device and nitrogen purity control and metering system.
Design conditions: 20 ºC 1bar 50% relative humidity
a. Air gas flow rate ≥ 17m3/min
b. Air gas quality: oil content ≤3ppm, particle content ≤ 3μm
c. Air gas pressure ≥ 1.25mpa
Compressed air temperature: ambient temperature +15ºC
d. Nitrogen gas flow rate: 600m3/hr
e. Nitrogen purity 90% (oxygen content 10%)
f. Nitrogen outlet pressure 1.0MPa
g. Nitrogen gas dew point ≤ -40ºC
h. Nitrogen gas temperature: 50ºC
i. Ambient temperature: -30ºC~ +45ºC
j. Explosion proof grade: no danger
k. Working system: continuous working
l. Generation time of Nitrogen gas after startup: ≤ 5min
m. Equipped with sound-insulated and insulated cabin, the angle of the cooling air outlet grille is adjustable, and the cabin is equipped with an electric heater, and the cabin can be fully closed in winter.
n. Centralized manual sewage discharge, visible sewage discharge status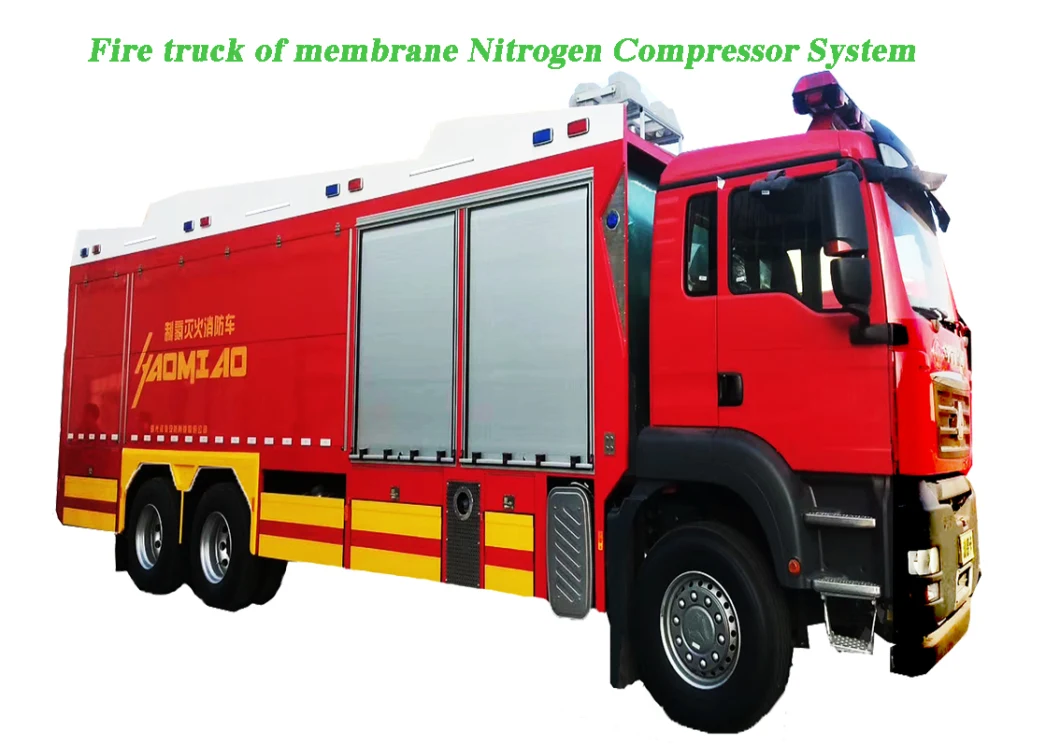 How a Nitrogen Generator Membrane Works
Pressurized air is fed to one end of the hollow fiber membranes. Membranes contain a bundle of hollow fibers with holes small enough to allow the smaller oxygen molecules to exit through them under pressure. The permeation rates of water vapor, CO2, and oxygen contained in the air stream are faster than nitrogen and argon and will rapidly diffuse through the fiber walls. The slower diffused nitrogen molecules remain in the fiber bore and are collected as the nitrogen product gas. The air flow rate will determine how much undiffused oxygen remains with the nitrogen gas. The nitrogen product gas is extremely dry, with atmospheric dew points typically below -40°F. The membranes act like a filter with no moving parts and continuously generate nitrogen at selected flow and purity.
Learn more about On Site's Membrane Nitrogen Generator
For more information about our nitrogen membrane generator, please contact us.
Telephone: 86-13910684359