New Portable Ozone Generator Air Purifier Ozonizer Fresh Fruits and Vegetables Sterilizing Machine
Product Description
Model

N1681

Ozone output

500mg/h

Color

White

Function

Air and water purification

Filter System

Ozone generator

Voltage

AC110/220V 50/60HZ

Rated Power

18W

Application

Portable, Hospital, Hotel, Office, Home, etc

Product Size

L160*D60*H250MM

Carton Packaged Size

43*47*63cm

Carton Weight

17KG (12PCS)

Accessories

1. Silicon tube 2pc;




2. O3 air stone 2pc;




3. Wall-mounted;

Product features

• Ozone air and water purification




• Digital menu control (5-60min)




• LCD display working show with remote controller.




• High efficiency filtration PM2.5 ≥ 99.7%




• Anti-dust, Anti-formaldehyde Antibacterial

Packing details

1pcs/box




12pcs/ctn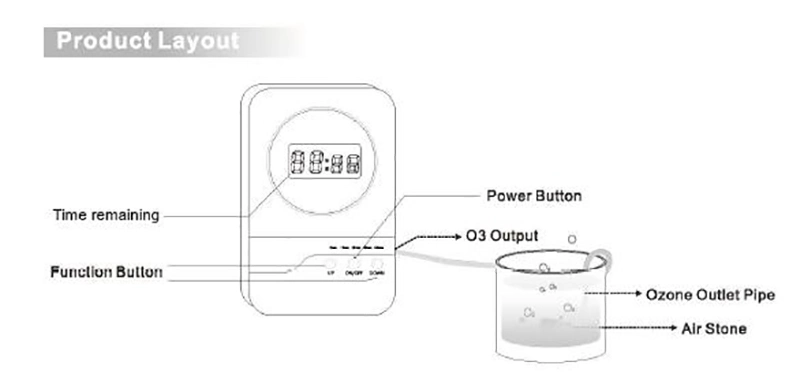 Direction for Use
1. Connect the power and turn on power switch. When the power indication light is on check all the automatic functions.
2. To set the function. press "UP / DOWN" button. It is preset 5. 10. 20. 30 and 60 minutes.
3. To sterilize. connect the air tube to the ozone outlet connector then put the ozone outlet ball to the bottom of the container (When the air has sterilized. disconnect the air tube) .
4. Remote controlled within 3 meters.
Functions:
1. Preserve Freshness (5min)
Applications Function and Effects

Fish and meal washing
1.Eliminales the fishy odor.
2.Kills the bacteria in the meal and fish.
3.Decomposes hormones and antibiotics in meat fish, poultry.

Food preservation
1.disinfects the food in refrigerator.
2.Extend fresh fruit and vegetable storage life in refrigerators and coolers.
3.Keep the food fresher.
2. Kills Bacteria (10min)
Fruit and Vegetable Washing
1.Dissolves and eliminates pesticide on the surface of fruits and vegetables
2.Kills Ihe bacteria on the surface of fruits and vegetables
3. O3 Sterilization(20min)
Tableware washing
Kills bacteria on the surface of the tableware
Water treatment
I. Dissolves the organic impurities and bleaches the water
2. lncreases the oxygen level in the water
Children' s Articles


Disinfects nursing bottles and

toys ,etc


Bathing
Prevents diseases such as epiphyte from infecting.
Oral hygiene
1. Kills bacteria in oral cavity.
2. Helps 10 cure some oral cavity diseases such as faucitis and stomatitis.


Pets :

Removes odor.
4. Removes foul smell (30min)
Furniture, Carpets
Removes harmful gases such as formaldehyde emanating from new painting ,and carpeting
Kitchen
Removes odor and smoke in air.
5. Removes Toxins (60min)
Bathing


Kills bacteria, eliminates any odor and bleaches the clothes

The characteristics of ozone
Ozone, which has the scientific name 03, with the molecule 48.00 is created by combining three oxygen atoms. The density is more than 1.658 times that of air. It has a high oxidizing ability which is effective for disinfecting and sterilizing. It can destroy most bacteria in the water or in the air. It is accepted as broad-spectrum , effective disinfectant and antiseptic. Ozone is an important component of our atmosphere. Our atmosphere contains 0.01 ppm-0.04 ppm of ozone, which balances the level of bacteria and mildew in nature. Ozone is also created electrically in nature during active thunderstorms.

The molecule of ozone is inherently unstable and tries 10 break down into the oxygen molecule as quickly as possible. This is what makes ozone such a great air and water cleanser. The ozone molecules need to combine with something in order to break down, so they end up oxidizing organic compounds and turn them into harmless carbon dioxide and water. Because ozone quickly breaks down into oxygen; it's considerably less toxic than disinfectant chemicals like chlorine. It has been called "the cleanest oxidizer and disinfector".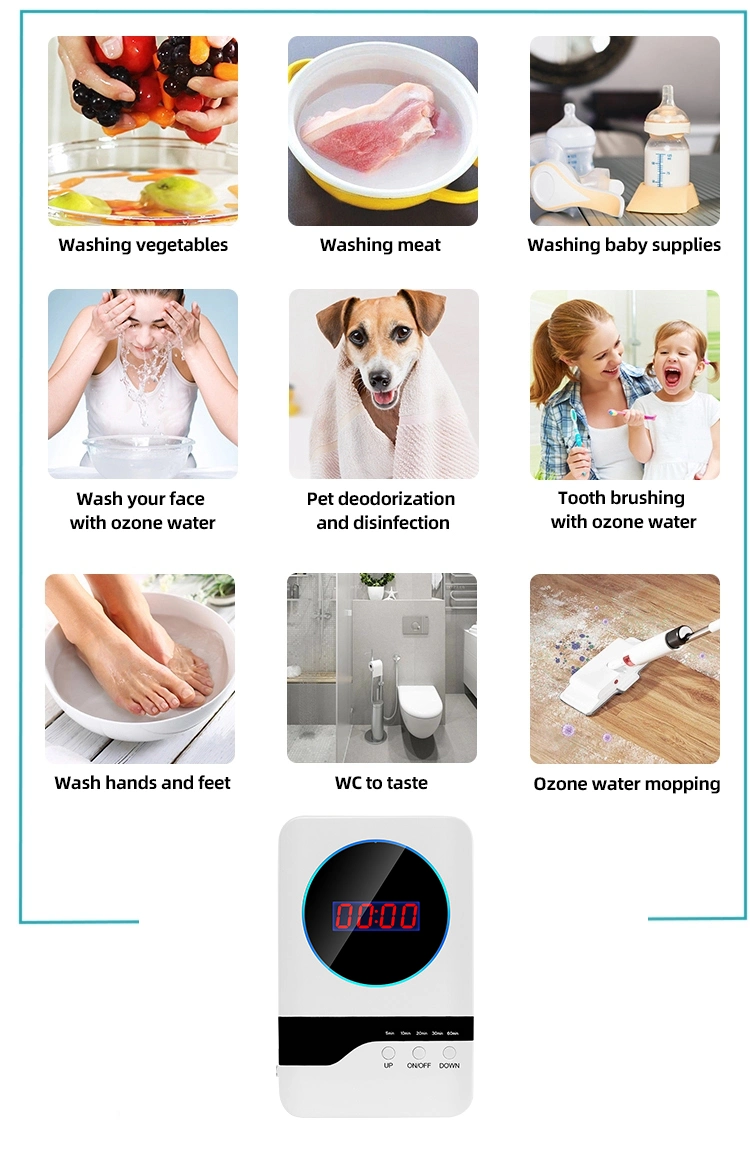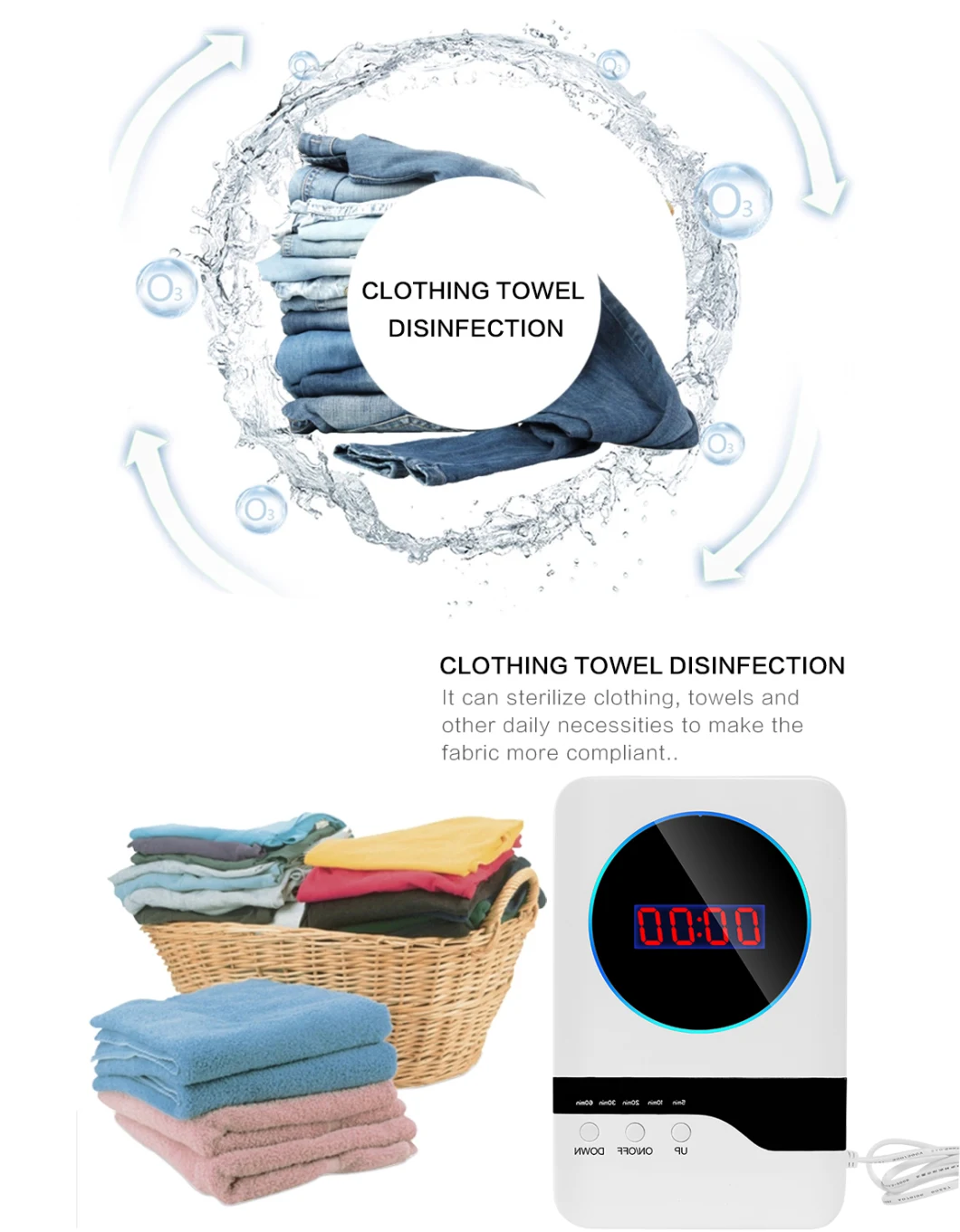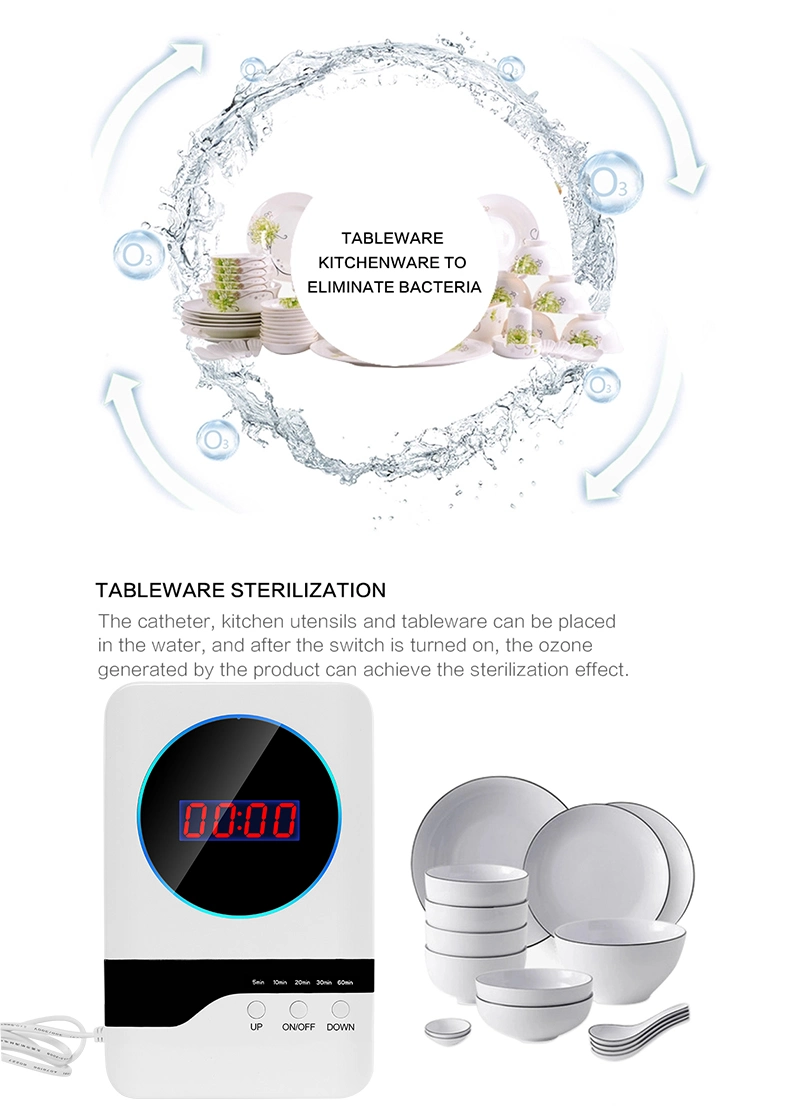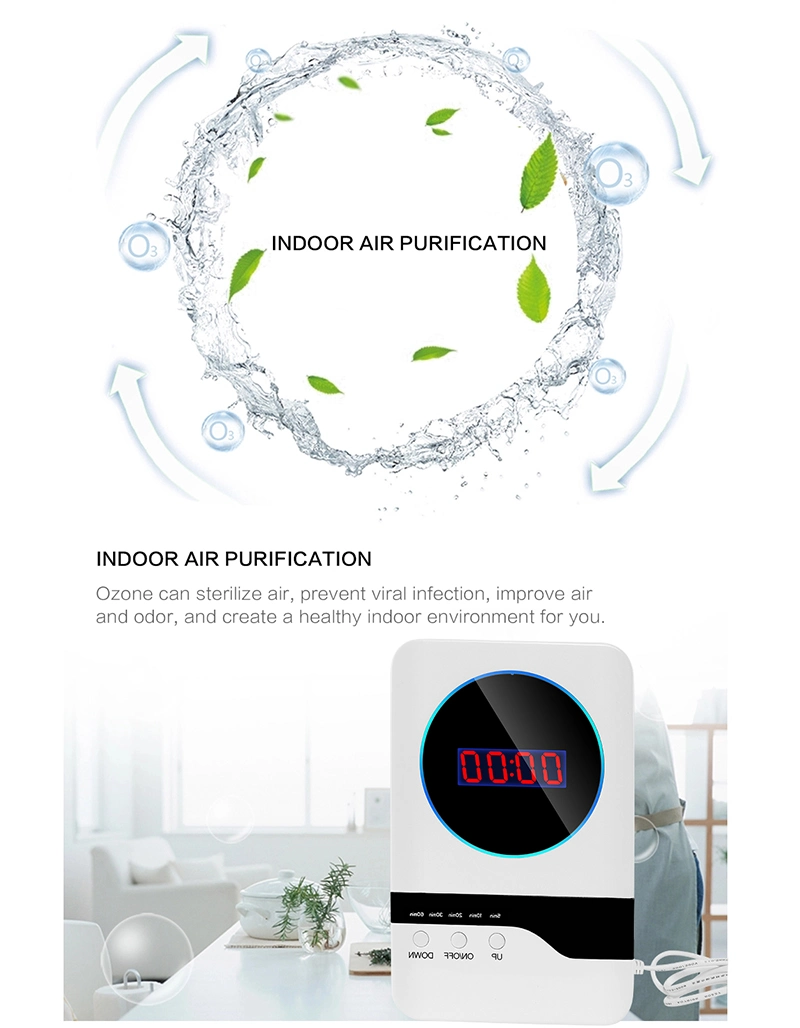 Water:
Ozone is a more powerful disinfectant than chlorine, chlorine dioxide or peracetic acid. It is effective against a wide range of pathogens including bacteria, viruses, cryptosporidium, giardia, etc. More importantly, ozone has a lifetime of only 10-20 minutes in the water after which time it breaks down to oxygen. Therefore it does not leave behind harmful by products as do chlorine or chlorine dioxide.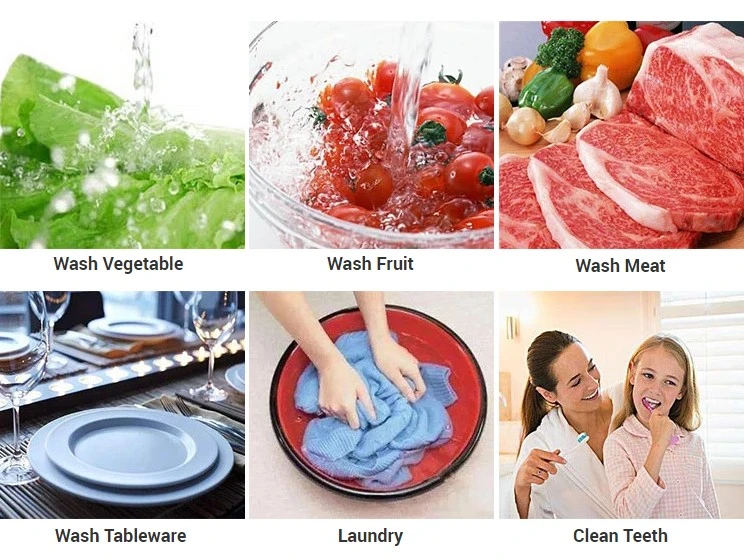 Air:
Ozone destroys the cell skin of the bacteria, thus kills them. Also it reacts with the harmful gas such as Formaldehyde and finally change to H2O and CO2. Ozone reverts back to oxygen finally-leaving no hazardous residue-releasing oxygen atoms that puncture & kill bacteria and viruses.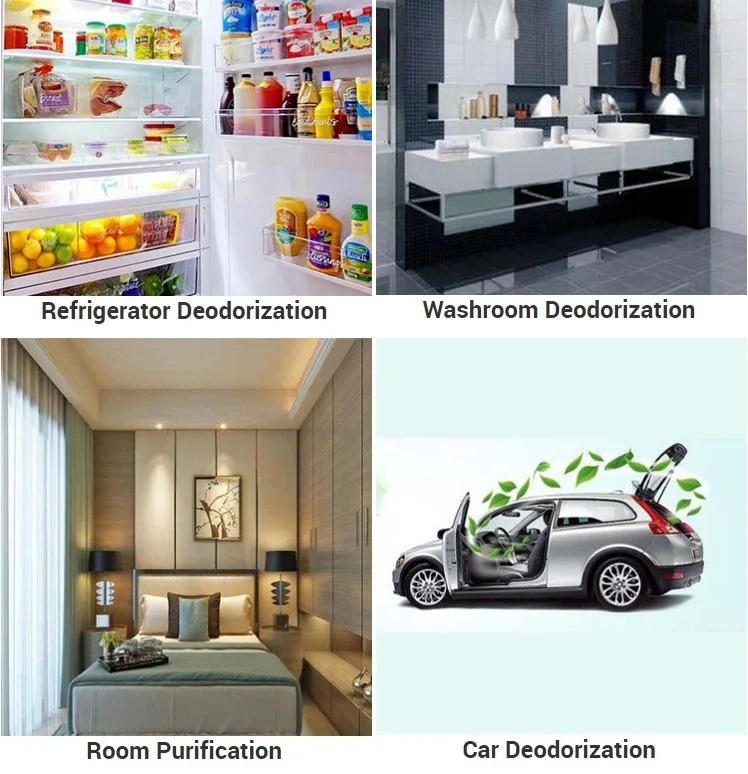 Packaging
(1) Standard package in Color box with sponge, EPS EPE foam or blister packing etc.
(2) OEM or ODM package depends on customer' s requirements.
Shipping
(1) For sample order, Shipping by DHL/UPS/FedEx/TNT, 3-5 working days door to door service.
(2) For large order, Freight transport by sea or by air, to your nearest seaport or airport.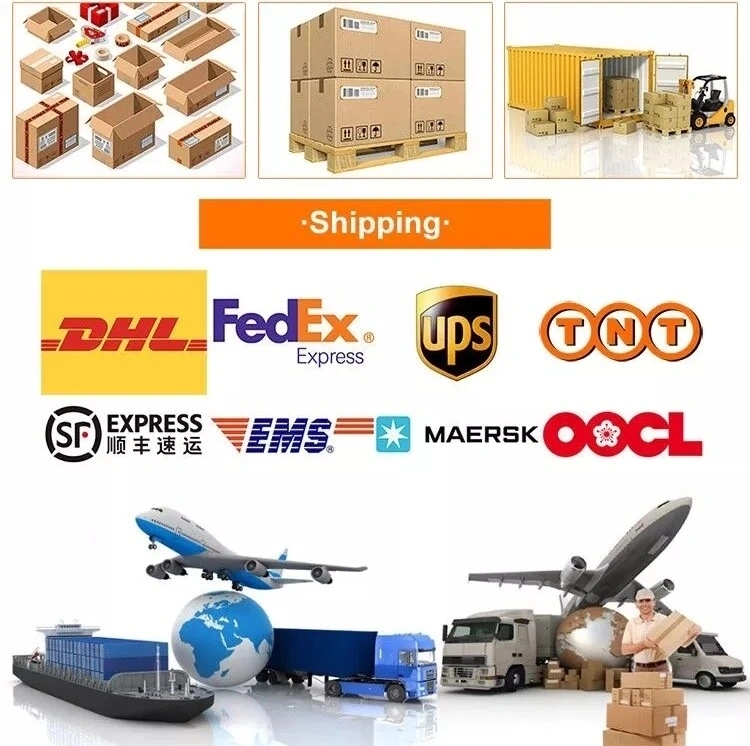 Certification
Our company owns the Quality Management System of ISO9001:2008, and we have such Certifications: UL, CE, CQC, TUV, FC and ourproducts accord with the Environment System ROHS.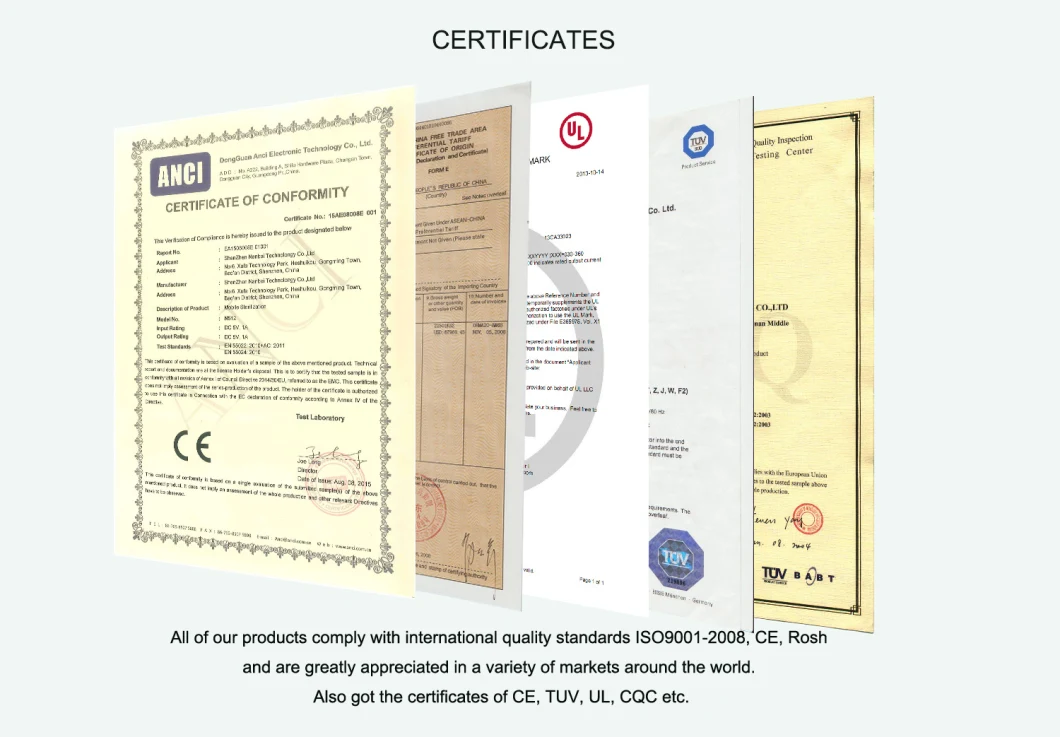 About us
Our Nanmor company is a professional manufacturer and exporter that is concerned with the design, development and production of Air purifier, Ozone sterilizer, Water purifier, Vegetable washer, Water dispenser, Ion and Ozone generator, Water filter parts and OEM & ODM products. All of our products comply with international quality standards ISO9001-2008, CE, Rosh and are greatly appreciated in a variety of markets around the world. Enterprise Strength Covering an area of 30000 square meters of two buildings for the factory, we now have over 500 employees. We are currently exporting 70% of our products worldwide. Our prices and quality have both competitive.We own the partners from world five hundred companies. We mainly export to American, Japanese, Korea, Malaysia, Indonesia, Thailand, Singapore, Taiwan and Europe countries and districts. "Innovation, Win-win" is our concepts.
We are willing to create a good future with the friends engaged in environment protection. Welcome you to contact us for more information and look forward to working with you!
Our services
1, OEM order and sample order are welcome
2, All our products have one year warranty
3, We offer free logo printing service for OEM orders
4, We will reply you for your inquiry in 24 hours
5, After sending, e will track the products for you, until you get the products. If you have any question about the products,
please contact us. we will offer the solving way for you.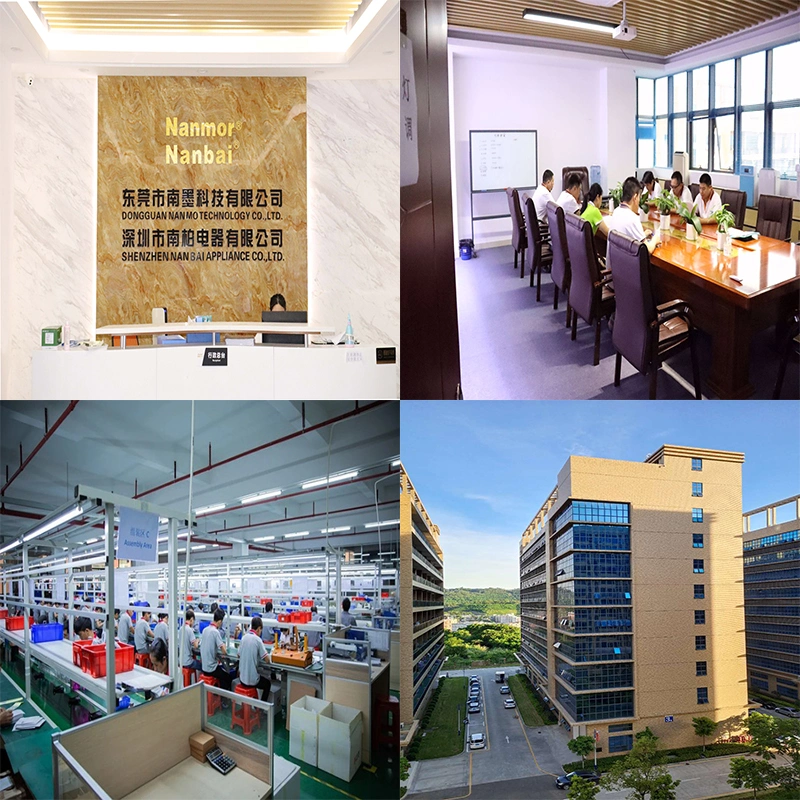 FAQ
Q1: Are you a factory or trading company?
A: We are a manufacturer with our own R&D, design, manufacturing, sale, after-sales service, located in China.

Q2: Can you design the products I want?
A: Of course. Once you give us your design requirements, We will make artwork for your conformation. Elaborated design and skilled support. Put your good idea into reality. We offer OEM ODM services

Q3: How about your after-sales service?
A: In general, we offer one year warranty without man-made vandalism or wrong operation.

Q4: What is the packing of the products?
A: Strong export carton(inner colorful box and outer carton box).


Q5: Why so many customer choose us?
A: Ha-ha! Because we are verified supplier of alibaba recommended and we are customer-focused. For more details, please visit our shop.

Q6: May I visit your factory?
A: Warmly welcome! Many customers visit us when they come to China.